Slaughter And The Dogs "Il Tradimento Silenzioso" LP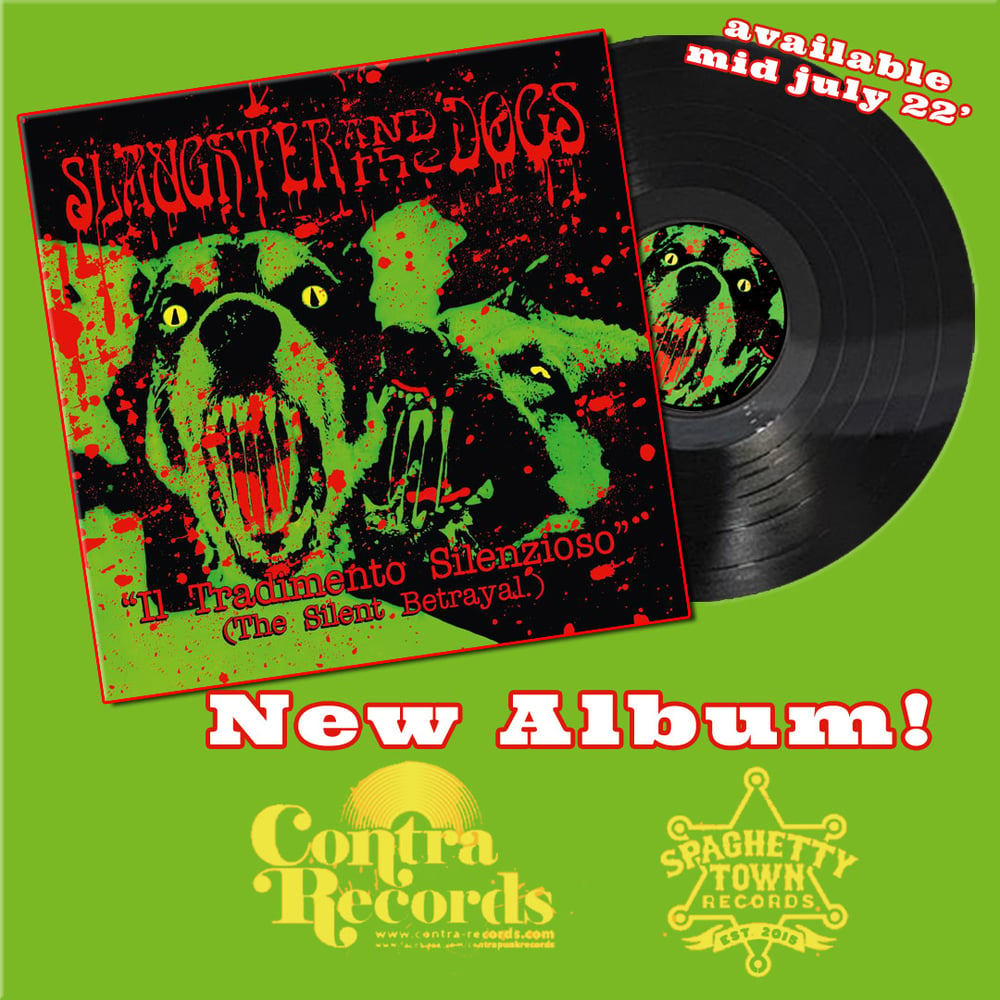 Slaughter and the Dogs™ are BACK and more FEROCIOUS than ever !
Slaughter and the Dogs are a 5-piece Franco/English Punk Rock band, originally established in 1975, in Manchester, United Kingdom, and now have their headquarters in Lyon, France.
The new, youthful and energetic lineup up consists of original lead singer, Wayne Barrett, Swindle on rhythm guitar, Pierrick on drums, Thib' on bass, and Damien on lead guitar.
They met through mutual friends and at punk rock gigs.
Their musical influences range from of course Punk Rock, but also Oi!, Bovver Glam, Pub Rock, Garage Rock, such as the MC5, the New York Dolls, Slade, Thin Lizzy, and David Bowie.
Their unique brand of entertainment fuses loud, energetic Punk Rock and classic Punk singalong songs, that will make you want to grab a beer at the show, put a shoulder around your mate, and sing along, fists in the air!
Hailed as one of the top 10 Best Debut Punk albums by publications such as Vive le Rock, Louder Than War, and Mojo amongst dozens of other musical publications, Slaughter and the Dogs have performed close to 1000 shows and have headlined festivals such as Rebellion Festival in Blackpool, United Kingdom multiple times, CBGB's in New York, NorthWest Calling, Scotland Calling, and even Eikoku-Ongaku Vinyl Japan 30th Anniversary Gig.
Tracklist:
A1 Manchester Boys
A2 Silent Cities
A3 Good Times Are Coming Here Today
A4 Ultimatum
A5 The Ok Man
B1 Five Star British Hotel
B2 Cocaine Smile
B3 Hooligan Blues
B4 She's So Far From Home
B5 You Make Me Feel Brand New
B6 Maybe If We Followed The Devil
Only 200 copies available in the US of the new LP from Slaughter And The Dogs.
In Europe from Contra Records at https://www.contra-net.com/en/bandmerch/slaughter-and-the-dogs.html/
Other countries (Non EU), email us to figure out shipping [email protected]